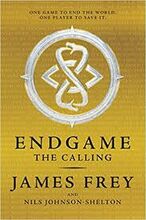 First in the series
Published October 7, 2014
THE END OF THE WORLD IS COMING. PLAY NOW. OR WE ALL LOSE.
After centuries waiting in secret, twelve unbroken bloodlines, armed with hidden knowledge and lethal training, are called to take humanity's fate into their hands...
Follows the Players as they begin endgame in the pursuit of the first key, the Earth Key.
Sequel to Endgame - The Calling, published October 1, 2015.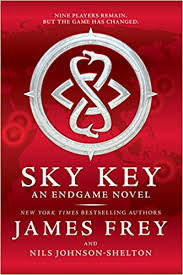 The Endgame trilogy continues in the sequel to the New York Times bestseller Endgame: The Calling . Endgame is here. Earth Key has been found. Two keys-and nine Players-remain. The hunt for Sky Key has begun. Queens, New York. Aisling Kopp believes the unthinkable: that Endgame can be stopped. But before she can act on her own, she is approached by the CIA. And they have their own ideas about how Endgame should be Played. Kingdom of Aksum, Ethiopia. Hilal ibn Isa al-Salt narrowly survived an attack that leaves him horribly disfigured. But the Aksumites have a secret that is unique to their line. A secret that could help redeem all of humanity. London, England. Sarah Alopay has found the first key. But getting Earth Key has come at a great cost to Sarah. And the only thing that keeps the demons at bay is Playing. Playing to win. With only two keys left to claim, the remaining Players will stop at nothing to find Sky Key-wherever it is, whatever it is-as the world begins to crumble.
The final installment of the Endgame trilogy published December 29, 2016.
The explosive final novel in the Endgame trilogy, by New York Times bestselling author, James Frey.
Two keys have been found. The strongest Players are left. One final key remains to win Endgame and save the world.
For Sarah, Jago, Aisling, Maccabee, Shari, An, and Hilal, Endgame has reached its final phase. The third key, Sun Key, is all that stands between one Player saving their line - or perishing along with the rest of the world. And only one can win.
West Bengal, India: Maccabee is Playing to win. He has Earth Key and Sky Key and he is determined to find Sun Key. But in Endgame, fate can turn in the blink of an eye. He must Play carefully. He must watch his back.
Kolkata, India: An Liu is Playing for death. His goal: stop Endgame, and take the world down with him.
Sikkim, India: For Aisling, Sarah, Jago, Shari, and Hilal, their mission is to stop Endgame. Sun Key must not be found.
No matter what they're Playing for, all of the remaining Players have one thing in common: they will end the game, but on their own terms.
All items (1)